Beijing:
Chinese President Xi Jinping made a big announcement regarding Islam in Xinjiang province, a stronghold of Uighur Muslims. In his rare visit, Xi Jinping instructed Chinese officials to intensify their efforts to bring Islam into China in line with Chinese society. Not only this, Chinese President Jinping also said that all religions in the country should adopt the socialist society which the ruling Communist Party is promoting. This is the same Xinjiang province where Chinese troops have been brutally suppressing Uighur Muslims for the past several years. In fact, since 2015, the Chinese President has been running a big campaign to make Islam according to China. Let us know what is Xi Jinping's plan and how China is brutalizing Uighur Muslims.
Following the instructions of Chinese President Xi Jinping, a confidential directive was issued to the local authorities in the year 2018. It said that Islam should be prevented from infiltrating the secular lifestyle and in the affairs of the government. This is called 'Sinicization of Islam'. Xi Jinping has now sent a message not only to Uighur Muslims but to the world by repeating his instructions once again from the soil of Xinjiang. All countries and human rights groups including America, Britain keep accusing China of atrocities by Uighur Muslims. China is irresponsible of these allegations and continues to run several concentration camps in Xinjiang.


Uighurs are given 'injections' in China, the witness opened the secrets of torture … appeals to the International Court to investigate again
'Islam will have to be accepted according to China'
The Chinese President also made it clear to Uighur Muslims that they have to accept Islam according to China. Not only this, all religious groups of Uighurs, Buddhists have to follow the policies of the party and the government. Xi Jinping is trying to follow the policies of the Muslim Communist Party. He wants Chinese Muslims to believe in their homeland, Chinese country, Chinese culture, Communist Party and China's socialism. China has launched a systematic, official campaign against one million Uighur Muslims with the aim of imprisoning them and placing them under house arrest. It has been named an education camp, but here the world's most serious human rights violations take place.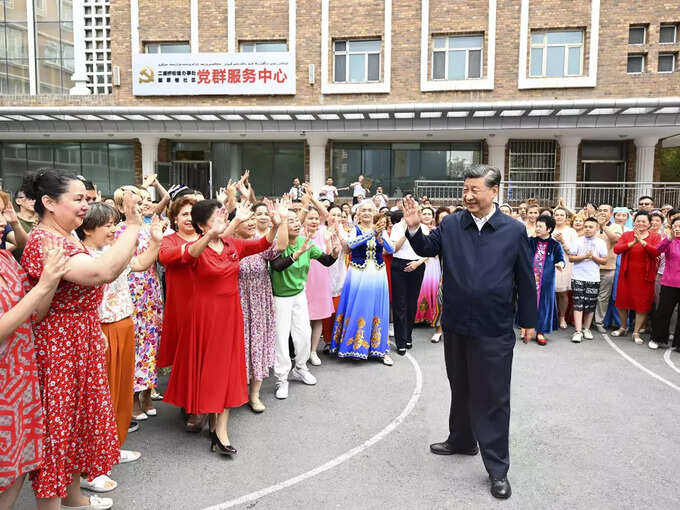 Satellite images have revealed that China is expanding these torture centers on a large scale. Several media reports have revealed that the human rights of Muslims settled not only in Xinjiang but throughout China are being seriously violated. These Muslims are forced to eat pork, drink alcohol and shave their beards. Girls are also prohibited from wearing burqa. Muslims who have contacts with foreign Muslim gurus are put in jail. Apart from this, their passport is confiscated so that they are not able to perform essential pilgrimage like Haj. Chinese officials stop by azaan. Not only this, the minarets built in the mosque of Muslims have been removed. Many mosques have been vandalized by bulldozers.


Xinjiang: China's cruelty is heart-wrenching, you will cry after reading the torture of Uighur Muslim women
China engaged in destroying the identity of Muslims
China has started using state-of-the-art surveillance technology to keep an eye on Muslims. China is also using AI technology, which can easily recognize faces. China is not going to stop this right now and Xi Jinping has made it clear by giving fresh instructions to the officials. China's attempt is to break the ties of Muslims with Islam, to end their separate identity. China recently banned religious studies in Arabic. Not only this, Arabic signs have also been removed from restaurants and shops. The Islamic bookstore has been closed. Their owners are often detained. China is trying to somehow mix the culture of the Chinese majority Han people with the culture of the minority Muslims.
China demolished 16,000 mosques, know the truth of 'cultural genocide'
This move of the Chinese government is aimed at reducing Islamic beliefs from everyday life in China. Analysts say China can now build torture centers not only in Xinjiang but also in Ningxia and Gansu, where the majority of Hui Muslims live. Of China's 1.3 billion population, 92 percent are Han people. A total of 40 million Muslims live in China. This is only two percent of the total population of the country. Hui Muslims are followed by Kazakhs, Kyrgyz, Salars, Tajiks, Bonan and Tatars. Muslims are strongly opposing this brutal repression of China, while Muslim countries abroad have kept silence. Islam arrived in China in the 7th century and the first mosque was built in Guangzhou by Arab and Persian Muslims.

,