If you use mobile banking or internet banking then you need to be careful, as there is an S virus in the market, which can empty your bank account. The name of this virus is SOVA Virus, In today's article, we will tell you about this, such as What is Sova virus, how does it work, and how can it be prevented? What is Sova Virus – Full Information in Hindi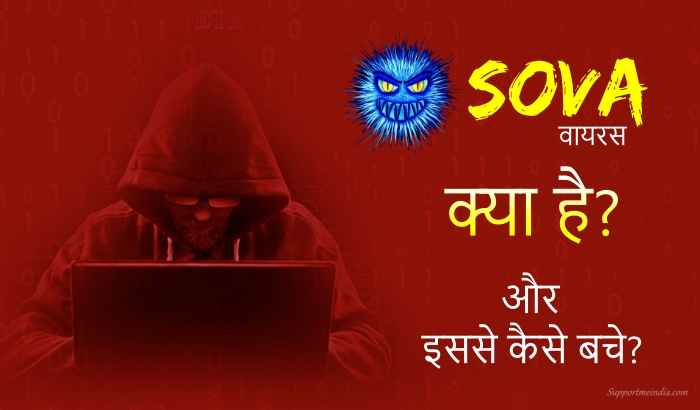 Sova virus (SOVA), which has killed thousands of people in America, Russia and European countries, has now knocked in India as well. This virus is so dangerous that it steals your username and password while login to your net banking or banking app.
CERT-In, the agency responsible for cyber security in the country, has issued a warning to everyone regarding this. The new mobile banking 'Trojan' virus infiltrates Android phones in a very clever way and it is impossible to uninstall this bug.
What is SOVA Virus? (What is SOVA Virus in Hindi)
Sova virus is a new type of mobile banking malware campaign. It uses a virus called SOVA Android Trojan. Earlier, Sova focused on countries like USA, Russia and Spain and is now targeting India.
This virus is one of the most dangerous virus for mobile net banking users in India. It is difficult to uninstall and this is the fifth variant of the virus first identified in Indian cyberspace.
It has the ability to encrypt all the data. This was reported by the country's federal cyber security agency. This version of malware hides those fake Android apps that have similar logos, equivalent to search engines like Chrome, Amazon and the NFT platform in order to fool users by installing it.
The biggest feature of this virus is its smart action. It redeploys the security module which aims to protect itself from the actions of various victims.
When the user tries to uninstall the malware from its setting options on their device. Then Sova virus interrupts the user's actions and automatically returns to the home screen and shows the message 'This app is secured'.
This will result in harmful conditions for users that affect their privacy and the protection of sensitive customer data. This will further lead to large-scale attacks and financial fraud on the part of users.
Target,
The virus targets over 200 mobile applications including banking applications with crypto exchanges and wallets.
SOVA VIRUS FEATURES:
The virus collects keystrokes and steals cookies from devices.
They seize multi-factor authentication (MFA) tokens.
The malware takes screenshots and records video from the webcam without the user's permission.
It performs gestures like clicks and swipes using the Android Accessibility Service.
In addition, false overlays are present in many types of apps.
It can also copy and paste over 200 banking and payment applications.
Threat to Indian cyberspace.
How does it work?
The latest version of SOVA malware hides itself through the Android app. It hides itself by using the logo of popular apps like Chrome, Amazon, NFT platform.
Because of this people install it in the device. After this the virus becomes active and starts targeting people. The new version of the SOVA malware is targeting more than 200 mobile applications. This includes crypto exchanges and wallets in addition to banking apps.
This malware steals users' login details when they log into their net banking app to access the banking account. According to the report, this malware is being spread through SMS phishing. Fake Android app gets activated once it is installed in the device.
After this it sends the list of all the apps to the command and control server. Which scammers take advantage of. The address is then sent from the command and control server to all target applications. These apps are then handled by malware and command and control servers.
How to avoid or avoid SOVA Virus
When users try to delete these apps, a lot of pop-ups are shown to the users and the app is crying saying that it is safe.
To avoid this, you should avoid downloading the app from any third party app or website. Please pay attention to its permissions before downloading the app. If he is asking for unnecessary permission then be alert.
Follow the following tip to avoid Sova virus?
Limit your download sources to official app stores, device manufacturers, or operating system app stores.
Always review apps before installing them from the Google Play Store app. Never check the 'Untrusted sources' checkbox for side-loaded apps.
Update and patch as and when present on Android device vendors.
Avoid untrusted websites or untrusted links and use caution.
Beware of unknown email-to-text services hiding your real number.
Access only links that show the website domain. Users need to cross-check by searching for the link on search engines to make sure the website is legit.
Update and install antivirus or any spyware software on your device.
Valid encryption certificates can be checked through a green lock in the browser's address bar before providing any sensitive information.
Any unusual activity in the customer's account should be immediately reported to their respective banks.
We hope now you have come to know that sova virus kya hota hai, kaise kaam karta hai, aur isse kase bache, if you still have any question in your mind then you can ask in comment section below.
If you like this information, then do share it with your friends on social media. Thank you!