Virat Kohli New Look: Former India captain and star batsman Virat Kohli is once again in the news. After scoring 71st century in the Asia Cup, he has now changed his hairstyle. The photos of his new look are becoming increasingly viral on social media. Let us tell you that Kohli has always been in the discussion about his hairstyle.
Virat Kohli has been seen playing in the home T20 series against Australia from 20 September. Team India will play T20 series against Australia and then South Africa. Both these series will be before the World Cup 2022. During this, Team India will once again test its preparation.
Virat made a splash in the Asia Cup
Let us tell you that Virat Kohli had a blast with the bat in the recently held Asia Cup. He scored 276 runs in 5 matches with the help of two half-centuries and a century. Kohli scored an unbeaten 122 off 61 balls in the last match against Afghanistan.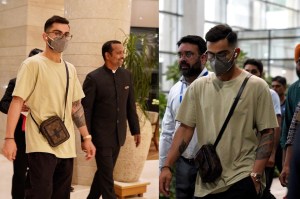 After about three years, Virat's bat had scored a century. Which the fans were waiting for for many days. Now fans are lavishing love on his new look too.
Equals Ricky Ponting in terms of centuries
Virat Kohli has scored 71st century in international cricket. He has equaled former Australia captain Ricky Ponting by hitting the 71st century. At the same time, more centuries than Kohli are now in the name of only Sachin Tendulkar (100).