Expansion
CBI has intensified its investigation in Sonali Phogat death case. The investigating agency is probing every place which is related to Sonali Phogat. In this sequence, today the CBI and forensic officers reached Goa's Anjuna night club 'Curley's' and questioned the people there. Let us inform that earlier on Saturday, the CBI team reached the resort in Goa where she had stayed before her death.
Two teams of CBI are investigating

CBI officials had told Sonali's family that two teams of CBI are investigating the matter equally. On Friday, where one team reached Bhuthan Kalan, the native village of Sonali Phogat, the other team reached Anjuna police station in Goa. The second team has taken many documents related to the case from Anjuna police station.
Sonali was murdered on 23 August

BJP leader Sonali Phogat went to Goa with her PA. She was found dead on the morning of 23 August 2022. Goa Police was trying to act as a coincidence in this case. Goa Police had to register a murder case after the relatives refused to conduct post-mortem. The Goa Police registered a murder case against Sudhir Sangwan and Sukhwinder, both arrested. After this, on August 31, the Goa Police team reached Hisar for investigation. The police returned for four days to Hisar, one day to Gurugram, one day to Noida. On September 11, the Mahapanchayat of Khaps in Hisar gave an ultimatum to the government for a CBI inquiry. On September 12, Goa CM Pramod Sawant wrote a letter for a CBI inquiry. On September 15, the CBI started the investigation by registering a murder case.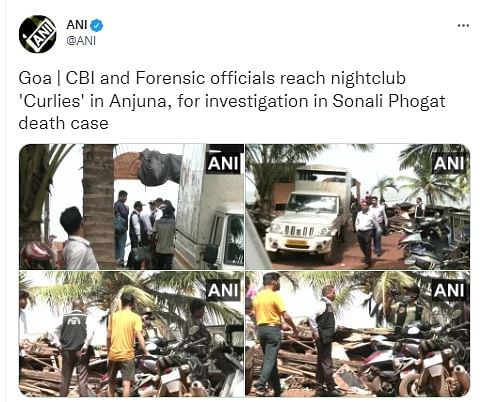 In Haryana, the threat of agitation was given in the Sarvkhap Mahapanchayat

In the Sarvjatiya Sarvkhap Mahapanchayat in Haryana's Hisar, Khap representatives had given an ultimatum to the BJP government of the state that the agitation would be intensified if the investigation into the Sonali murder case was not handed over to the CBI by September 23. On the demand of Khap representatives, Superintendent of Police Lokendra Singh had deployed two women police personnel for the protection of Sonali Phogat's daughter Yashodhara.
So far five people have been arrested

Significantly, BJP leader Phogat from Hisar in Haryana had died in Goa last month. It is suspected that he was murdered. Goa Police had arrested five persons in connection with the case, out of which two persons are associates of Phogat. The police have registered a case against both of them for murder.