RPSC exam will now be held on January 29
– Photo: Social Media
Detailed
The General Knowledge paper was out on Saturday for the Senior Teacher Recruitment Examination conducted by the Rajasthan Public Service Commission. After this, RPSC canceled the examination to be held from 9 am to 11 am on Saturday. RPSC has released the new exam date. Now this exam will be held on Sunday, January 29, 2023.
The paper leak case has caught political fire. Protests were held at many places in Rajasthan regarding the examination and the government was surrounded. BJP leader and Rajya Sabha MP Dr. Kirori Lal Meena reached Ajmer and met the Chairman of Rajasthan Public Service Commission, Sanjay Kumar Shrotriya. Kirori said, the paper has been leaked from the secret branch. After two days I will give proof of this myself.
What did CM Gehlot say on paper leak…

Chief Minister Ashok Gehlot's statement has also come to the fore on the paper leak. CM said through social media, I can feel the problems faced by the examinees. But I will not allow the selection of people with the intention of passing the exam unfairly. In Rajasthan, only hardworking children will get their rights. The CM asked the candidates to prepare themselves instead of being misled by anyone. The CM said that the rest of the examinations would continue as usual. The culprits will be given strictest punishment.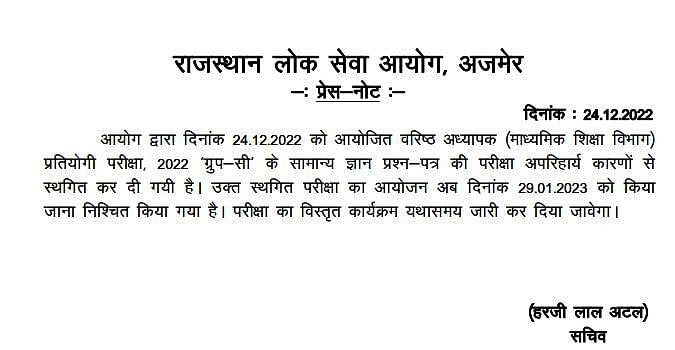 So far 49 people have been arrested.

Along with the cancellation of the paper by the Rajasthan Public Service Commission, police and SOG have started action in this matter. The police have arrested about 49 people along with mastermind Suresh in this case. Seven girls are also being told in these. Police had already received input for PayPal leak, after which action was taken in a Rajasthan Public Transport bus coming from Jalore to Udaipur in the morning.

The police arrested the accused while taking action near Bakaria police station in Udaipur. Preliminary information revealed that a joint team of police stopped the bus near Bekaria police station in the district, in which the candidates coming for the RPSC exam were aboard. Some papers have also been found from them. It is being told that 40 people were present in the bus, who were being solved by three to four people in the bus itself. All of them have been arrested.
Group C exams started from today.

Till now Group A and B examinations have been done under the Second Grade Teacher Recruitment Examination conducted by RPSC. A total of 12 lakh candidates are registered for 9 thousand 760 posts. Of these, the first paper under Group C on Saturday was to be of General Knowledge and Psychology. This exam was to be held from 9 am to 11 am. This examination was to be held at 1 thousand 193 examination centers of the state. Three lakh 70 thousand candidates were registered for this examination.