11:24 AM, 28-Sep-2022
CM Gehlot had no role in all this: Khachariawas
Observers have given a clean chit to Ashok Gehlot regarding the political crisis in Rajasthan. Regarding this, Pratap Singh Khachariyawas said that he had to get a clean chit. He had no role in all this. Those who have received the notice will reply.
10:54 AM, 28-Sep-2022
Amidst the political crisis in Rajasthan, Osian MLA Divya Maderna has opened a front against the Gehlot faction. She is speaking vocally on every issue of political crisis. Once again he protested against the notices given to Shanti Dhariwal and Mahesh Joshi. He said that both the honorable people should be sacked from the cabinet with immediate effect. For this he gave the example of Sachin Pilot. He tweeted and wrote that the way Sachin Pilot, Ramesh Meena and Vishvendra Singh were sacked from the cabinet without notice, in the same way now Shanti Dhariwal and Mahesh Joshi should also be sacked with immediate effect.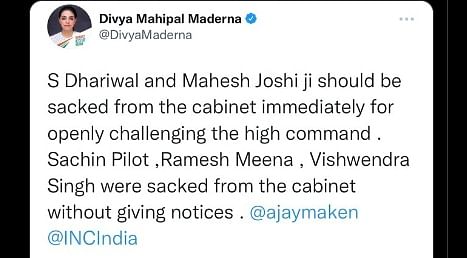 10:22 AM, 28-Sep-2022
Rajasthan Political Crisis: Sachin Pilot can meet Sonia Gandhi today, Gehlot's visit to Delhi is also possible
In the midst of the political turmoil in Rajasthan, all eyes are now on Ashok Gehlot and Sachin Pilot. All eyes are on whether Gehlot will file nomination for Congress President or not. It will be clear from this which side the camel will sit in Rajasthan. On the other hand, Sachin Pilot has kept silence about the whole incident. According to media reports, Sachin Pilot can meet Congress President Sonia Gandhi today. At the same time, Chief Minister Ashok Gehlot can also leave for Delhi today.