The actor, who said punch lines like 'Aabra Ka Dabra – Main Hoon Paras Chhabra' and 'Na tere aane ki khushi, na tere jaane ka gham, bad me ja tera kissa end', today is the 32nd Happy Birthday on 11th July 2022. These are the ones you saw in Salman Khan's 'Bigg Boss 13'. He also entertained the audience a lot in the house. He also created history by canceling most of the tasks given by Bigg Boss. Well you know all this. In this article, we are going to tell that which hardly the world will know about. Like why he wears a wig, when did he start modeling, how many affairs he has had, which reality shows he has won or been a part of, so many things like that, so let's start from the beginning.
Paras Chhabra was born on 11 July 1990 in New Delhi. His father's name is Vinay Chhabra and mother's name is Ruby Chhabra. But when he was three years old, his father passed away. His mother raised him by raising him. Paras is a model and actor by profession. He completed his schooling from Delhi school itself. But when he came in 11th standard, he started modeling since then. However, he graduated from the Open University and then joined the health club chain. The actor has also done print shoots for many renowned brands during his modeling days.


Paras Chhabra won the debut reality show
Paras Chhabar also worked in TV commercials and appeared in commercials like 'Sprite', 'Gillette', 'Gionee Mobile' and 'Jio'. He made his TV debut in the year 2021 with the dating reality show 'Splitsvilla Season 5' and won its title with Akanksha Popli. Means hat-trick in the very first match.

Paras Chhabra's debut film flopped
After this, in the year 2013, he made a wild card entry in 'Nach Baliye 6' with Sara Khan. Meaning they were dating each other at that time. Although the show did not win but did a film together. Paras also debuted in Bollywood in the year 2014. He played the character of Rahul in the musical thriller film 'M3- Midsummer Midnight Mumbai'. Actress Sara Khan was opposite him. It was directed and written by Braj Bhushan. The film could not do anything amazing at the box office and fell flat. Means that was badly beaten.

Paras Chhabra got popularity from 'Raavan'
When Paras Chhabra's hand did not work in films, he again returned to TV. In the year 2016, she entered 'Splitsvilla 8' as a celebrity contestant. There was nothing like winning his show here. He just came as a special appearance. Then he was seen playing important roles in 'Badho Bahu', 'Adhri Kahani Hamari', 'Aarambh: Kahani Devasena Ki', 'Kaleerein' and 'Karn Sangini'. But the popularity he got was Sony TV's show 'Vighnaharta Ganesh'. In this, Paras had gained a lot of name and fame by playing the role of Ravana. Apart from this, Paras Chhabra has also tried his skills in many Punjabi music videos.

Paras Chhabra worked in factory and call center
Even today Paras Chhabra has a bungalow, a car, a mother. But there was a time when he had to work for money. He told the Koimoi portal that his father had died at the age of 3. Mother had taken all the responsibility for them. When he grew up, he used to work in cover factories, call centers, cab service, gym, salon, cold storage and other places.

Paras Chhabra's first earning
Paras had told that he was once fired from his job. People used to say that that job is not for them. And this was often the case due to which he started doubting himself. But Career had some friends who clicked some of his photos and posted them on Facebook. After this she got a call for modeling. According to Paras, he had come to the audition without a portfolio. And he was selected. For the first modeling assignment, he got Rs 4000. Then he got 5000 rupees for what he did 'Badho Bahu'. In this, Prince Narula and Arhaan Khan were also seen with him.

Paras Chhabra broke up with these two actresses
Paras Chhabra and Sara Khan had a breakup after a few years. According to the report of Spotboye, they had a breakup. Because Paras's behavior was not right. Along with this, the actress also started suspecting that they were dating somewhere else. Because he did not even give much time to Sara. Fights also started between them. Then later both of them separated. After this the closeness of Paras and Akanksha Puri started increasing.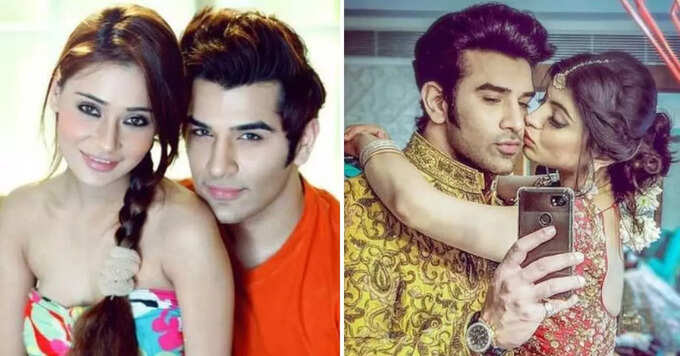 Paras Chhabra is dating Mahira Sharma
Paras was dating Akanksha while being a part of the controversial reality show 'Bigg Boss 13' in the year 2019. She used to send clothes, shoes and other necessities for Paras every week. On the wrist of the actor's right hand, his name was even anal. But as soon as he befriended Mahira Sharma and she fell in love, he once again dumped his girlfriend for another girl. However, Shehnaaz Gill also liked her in this show. But destiny had some other plans. It has been three years now, Paras and Mahira are still together. Spots are also often made.

That's why Paras Chhabra wears a wig
Paras Chhabra does not have any hair on his head, this thing came in front of the world during a task in the house of 'Bigg Boss'. When the wig on his head had come off during the tussle. In an interview given to the Times of India, Paras had told, 'I have been modeling for many years. And during that time there are very strong lights, due to which your hair becomes less. Not only this, the problem started when I was playing the role of Duryodhana in Karna Sangini. In that I had to wear a very heavy crown. Because of this too I started losing a lot of hair.

Paras Chhabra has no regrets
Paras also said that being an actor one has to look good all the time, due to which he was also taking steroids. But due to this his hair would keep falling, he had no idea that. However, he has no hesitation and no shame in saying that he wears a wig because he has patches on his head.
,