We can do safe browsing with the help of Incognito Tabs in Google Chrome, but sometimes our Incognito Tabs disappear automatically in our Chrome browser even though we have not even closed them. To solve this problem, Google Chrome for Android has come up with a new feature that will allow you to lock Incognito Tabs.
Now Unlock Chrome's Incognito Tabs With Fingerprint
Google Chrome for Android has now brought a new feature and it is related to Incognito Tabs as we know Incognito Tabs features for secure browsing were brought by Chrome but to make it even more secure now a new feature in it Has been added that allows you to lock incognito tabs. Yes, now you will be able to lock Incognito Tabs with Biometric Authentication in Chrome browser.
This feature can be very useful when you exit while using Incognito mode. When you open chrome again then a gray screen will appear in front of you with the option to "Unlock Incognito" Here you will need fingerprint unlocking and as soon as you complete the biometric authentication you will go into incognito mode again and you will be here You can again do secure browsing on Incognito tabs.
If your phone is with someone else then you will find this feature very useful because without your permission they will not be able to access Incognito mode inside your phone. And one more thing, if you do not want to use biometric authentication, you can also set a PIN, if you do not know, then let me tell you that the feature with PIN is already available in Chrome of iOS, now you can use it in Android also. Is.
How to Lock Incognito Tabs in Chrome?
Before locking Google Chrome's Incognito Tabs in Android, let me tell you that this feature is not widely available for users but if you want to use it, you can, but for this you have to enable Chrome flag first. , it is quite easy to enable it, just you have to "chrome://flags/#incognito-reauthentication-for-android" This code has to be searched in your Chrome browser. Once the flag is enabled, you have to tap on relaunch, then open Google Chrome again and follow the steps given below.
Open Google Chrome and click on the 3 dots given in the top right side.
After going to the settings, select the option with Privacy and security.
Now enable "Lock Incognito tabs when you leave Chrome".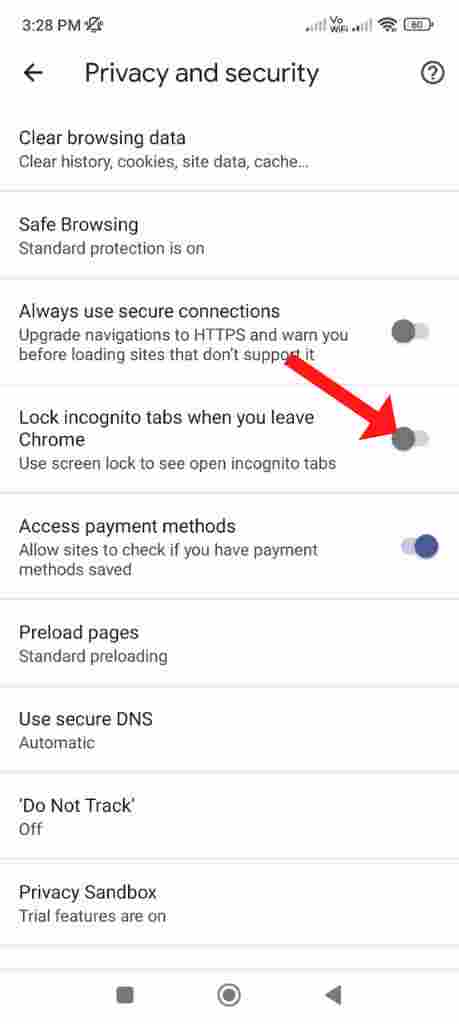 After enabling, verify your fingerprint and your Incognito Tabs will be locked.
Hope you have liked this feature related to Incognito Tabs, this feature looks very good from the point of view of security, so please share this information with your friends and give your opinion in the comment.