04:42 PM, 17-Jul-2022
IND vs ENG Live: Fourth blow to England
In the 14th over, England got the fourth blow at the score of 74. Hardik Pandya also dismissed Ben Stokes after sending Jason Roy to the pavilion. Stokes was dismissed for 27 runs off 29 balls. Roy could score 41 runs. After 14 overs, England scored 74 runs for the loss of four wickets. Currently, captain Jos Buttler and Moeen Ali are at the crease.
04:23 PM, 17-Jul-2022
IND vs ENG Live: Third blow to England
Jason Roy and Ben Stokes
– Photo : Social Media
England got the third blow at the score of 66 in the 10th over. Hardik Pandya gets Jason Roy caught by Rishabh Pant. Roy missed a half-century and was dismissed for 41 runs off 31 balls. At present, Ben Stokes and captain Jos Buttler are at the crease. Stokes and Roy shared 54 runs in 47 balls for the third wicket. Apart from Hardik, Siraj took two wickets. He sent Bairstow and Root to the pavilion in the same over.
04:17 PM, 17-Jul-2022
IND vs ENG Live: England 66/2 after nine overs
After nine overs, England scored 66 for two wickets. Currently, Jason Roy is batting on 41 runs off 26 balls and Ben Stokes with 24 runs in 22 balls. So far, 50 plus runs have been shared between the two for the third wicket. The performance of the Indian bowlers has been poor in the last few overs.
04:07 PM, 17-Jul-2022
IND vs ENG Live: England 38/2 after six overs
After six overs, England scored 38 runs for the loss of two wickets. At present, Ben Stokes and Jason Roy are getting runs fast. Stokes is batting on 13 runs off 15 balls and Roy 24 runs off 15 balls.
03:53 PM, 17-Jul-2022
IND vs ENG Live: England 24/2 after four overs
After four overs, England scored 24 runs for the loss of two wickets. Currently Jason Roy is batting on 13 runs and Ben Stokes is 11 runs. Mohammad Siraj took two wickets for India. He sent Jonny Bairstow (0) and Joe Root (0) to the pavilion.
03:38 PM, 17-Jul-2022
IND vs ENG Live: Mohammad Siraj's havoc
Mohammad Siraj did not let Jasprit Bumrah's deficiency be fulfilled. He gave two blows to England in the second over of the innings. Both these wickets fell on the total score of 12. Siraj first got Jonny Bairstow caught by Shreyas Iyer. After this, on the last ball of the over, Joe Root was caught by Rohit Sharma in the slips. Root and Bairstow both returned to the pavilion without opening an account. Currently Jason Roy and Ben Stokes are at the crease. Siraj bowls a double wicket maiden over.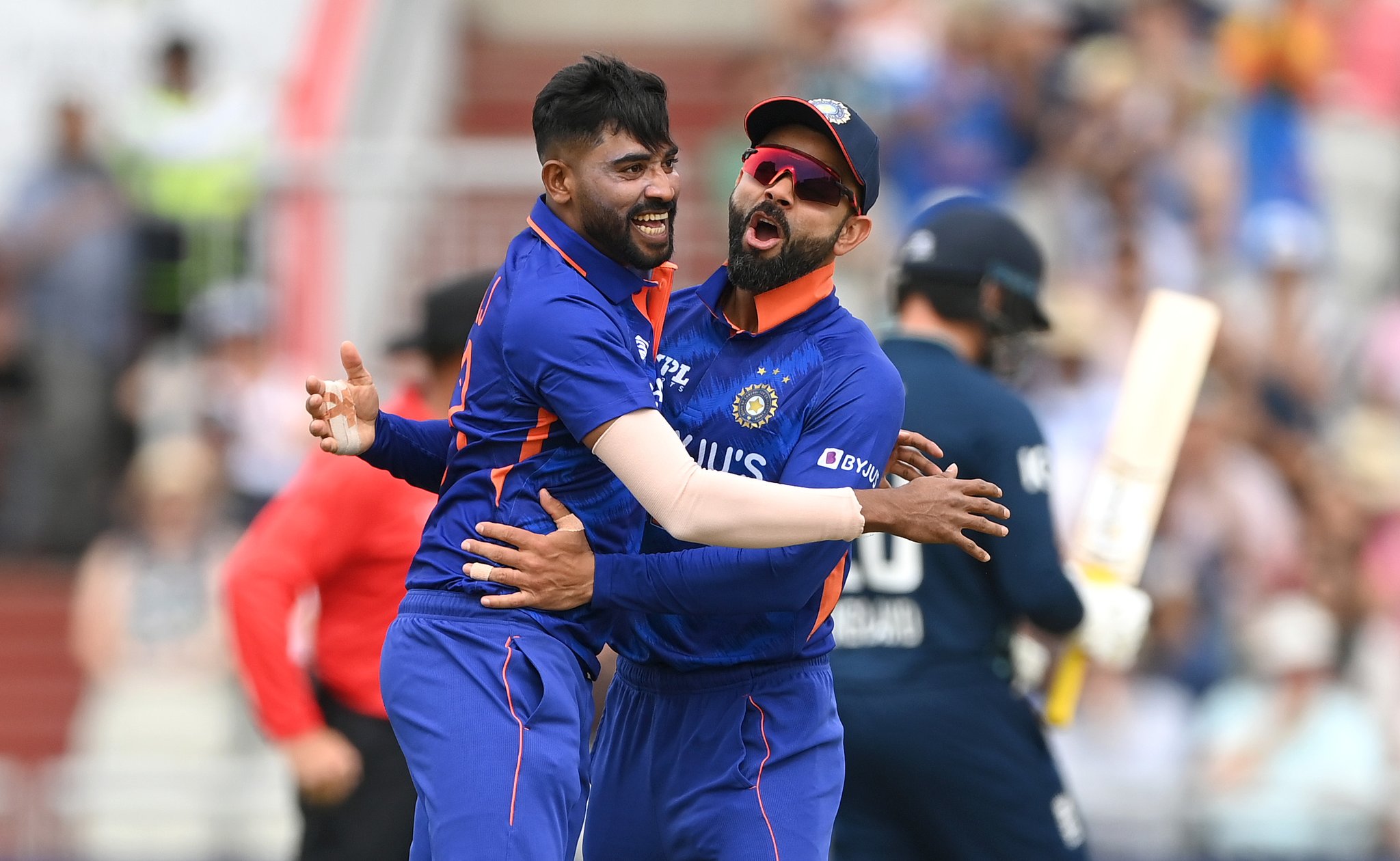 Siraj after taking a wicket
03:32 PM, 17-Jul-2022
IND vs ENG Live: England's batting begins
After losing the toss, the England team has taken the field to bat first. Jason Roy and Jonny Bairstow are at the crease. Mohammed Shami did the first over for India. Jason Roy, who has been in poor form, has made a quick start in this match and is looking in excellent rhythm. In the very first over of Shami, he has hit three fours. After one over, England's score is 12 runs for no loss.
03:07 PM, 17-Jul-2022
IND vs ENG Live: Both the teams are as follows
England: Jason Roy, Jonny Bairstow, Joe Root, Ben Stokes, Jos Buttler (wk), Liam Livingstone, Moeen Ali, Craig Overton, David Willey, Brydon Kars, Reece Topley.
India: Rohit Sharma (capt), Shikhar Dhawan, Virat Kohli, Suryakumar Yadav, Rishabh Pant (wk), Hardik Pandya, Ravindra Jadeja, Mohammed Shami, Mohammad Siraj, Yuzvendra Chahal, Pranand Krishna.
03:02 PM, 17-Jul-2022
IND vs ENG Live: Rohit Sharma won the toss
In the third ODI against England, Indian captain Rohit Sharma won the toss and decided to bowl first. Rohit won the third consecutive toss in the three-match ODI series. Indian captain Rohit has made a change in the playing-11. Jasprit Bumrah is not playing because of being unfit. The captain said that he does not want to take the risk in the case of Bumrah. Mohammad Siraj has been included in the playing-11 in place of Bumrah. At the same time, there is no change in the England team.
02:43 PM, 17-Jul-2022
IND vs ENG: Indian pace battery has shown power
As far as India's bowling attack is concerned, they have performed well in four out of the five white-ball matches so far. Bumrah bowled brilliantly and Mohammed Shami has often bowled wicket-takers. Yuzvendra Chahal has changed his technique a bit so that he is bowling a little slower.
The famous Krishna is getting a lot of bounce off the pitch and it can prove fatal for the team in front. Hardik Pandya's return to form will surely bring cheers to the Indian camp. However, Ravindra Jadeja's bowling is definitely a matter of concern.
He is going down in bowling. Jadeja is changing from bowling to batting all-rounder and only time will tell whether it will work in the sub-continent where at least two spinners have to bowl 20 overs.
02:43 PM, 17-Jul-2022
IND vs ENG Live: Thoughts on the role of Dhawan-Kohli
The biggest question before Indian coach Rahul Dravid and the team management is whether he considers 37-year-old Shikhar Dhawan as the first choice for next year's ODI World Cup. It should be kept in mind that Dhawan is playing international cricket in only one format.
So his rhythm is definitely getting affected as he has to take forced breaks. With 15 months left for the ODI World Cup, Dhawan needs to be seriously considered. The team management will have to think whether Rohit, Dhawan and Kohli will be the first, second and third number players of India going forward?
Kohli will definitely go for a month long break after this match. During this time he will try to overcome his flaws. He is repeatedly touching the bat on the outgoing balls and this weakness of his has become well known.
02:38 PM, 17-Jul-2022
IND vs ENG Live: Swing can cause problems
Batting will be challenging in this morning's ODI at Old Trafford. There the ball swings a lot. India had suffered a defeat against New Zealand in the semi-finals of the 2019 ODI World Cup here. However, then rain disturbed the match.
02:37 PM, 17-Jul-2022
IND vs ENG Live: Stokes, Livingstone not in form
England's star batting line-up has also not been in much form in the first two matches. In the hosts, batsmen like Jos Buttler, Jonny Bairstow, Jason Roy, Ben Stokes and Liam Livingstone are batting defensively. It didn't seem like he was the same player who had scored 400 plus runs against the Netherlands.
02:36 PM, 17-Jul-2022
IND vs ENG Live: Dhawan-Rohit need to play positive cricket
Rohit will admit that he and the experienced Shikhar Dhawan became a bit too defensive in the face of brilliant swings from England's Reece Topley and David Willey. Then the problem was compounded by the constant failure of Virat Kohli. The first two overs went maiden in front of experienced openers like Rohit and Dhawan. It doesn't show a positive mindset. So there will definitely need to be a change in the way we bat. In the first ODI at The Oval, Jasprit Bumrah single-handedly led the team to victory by taking six wickets. In such a situation, similar performance will be expected from him in the third ODI as well.
02:36 PM, 17-Jul-2022
IND vs ENG Live: India's performance in T20 series
The Rohit Sharma-led side displayed a very aggressive batting display during the recently concluded T20I series, which also led to considerable success. However, the manner in which the team chased down the target of a low score of 247 runs in the second ODI, it seems that India needs to be aggressive instead of defence.