08:12 PM, 23-Sep-2022
IND vs AUS Live: Next inspection at 8.45 pm
The umpires inspected the ground again at 8 o'clock. A part of the ground is still wet and efforts are on to dry it. The umpires said the area was wet due to heavy rain and it was not safe for the players. We are still waiting for it to dry. Ground staff doing their job. Let's see if we get to watch the match tonight. We are concerned about the injury to the players in this match. We are not thinking ahead. Both the teams will play strong here and the boundary part is where the players have to be strong. Player safety is a priority. In such a situation, we will wait for the ground to dry further.
The umpires said that Raj is the cut-off time at 9:46. If the match starts by then then five overs will be played. If the match could not start by 9.46, the match would be cancelled. The umpire will inspect the ground again at 8:45 pm. Then some decision will be taken. However, now the overs will be cut. It will be interesting to see how many overs matches can be played.
07:10 PM, 23-Sep-2022
IND vs AUS Live: Inspection will be held at eight o'clock
The toss is still delayed due to wet ground. At 7 o'clock the umpires inspected the pitch and found that the pitch was still wet. He was not happy seeing the condition of the ground. The umpires also held talks with Indian team captain Rohit Sharma and Australian captain Aaron Finch. In such a situation, he decided to inspect the ground from Dobra at eight o'clock. Nagpur received heavy rain on Friday. Supersopers and ground staff are engaged in drying the pitch and ground. Now overs can also be cut.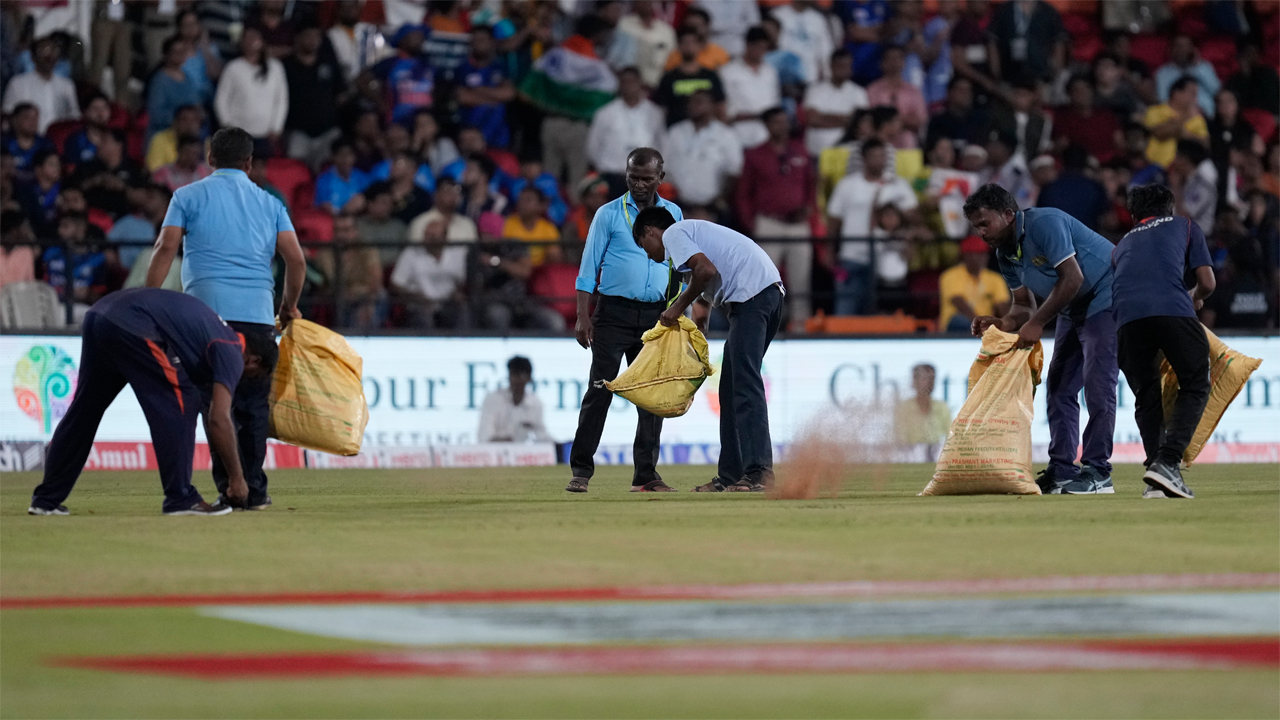 06:30 PM, 23-Sep-2022
IND vs AUS Live: Delay in toss
The toss has been delayed due to wet ground. The umpire will inspect the pitch at 7 o'clock. This decision has been taken due to heavy rains in Nagpur. Supersoopers are engaged in drying the pitch.
Update – Toss delayed due to wet outfield. Inspection at 7 PM IST#INDvAUS

— BCCI (@BCCI) September 23, 2022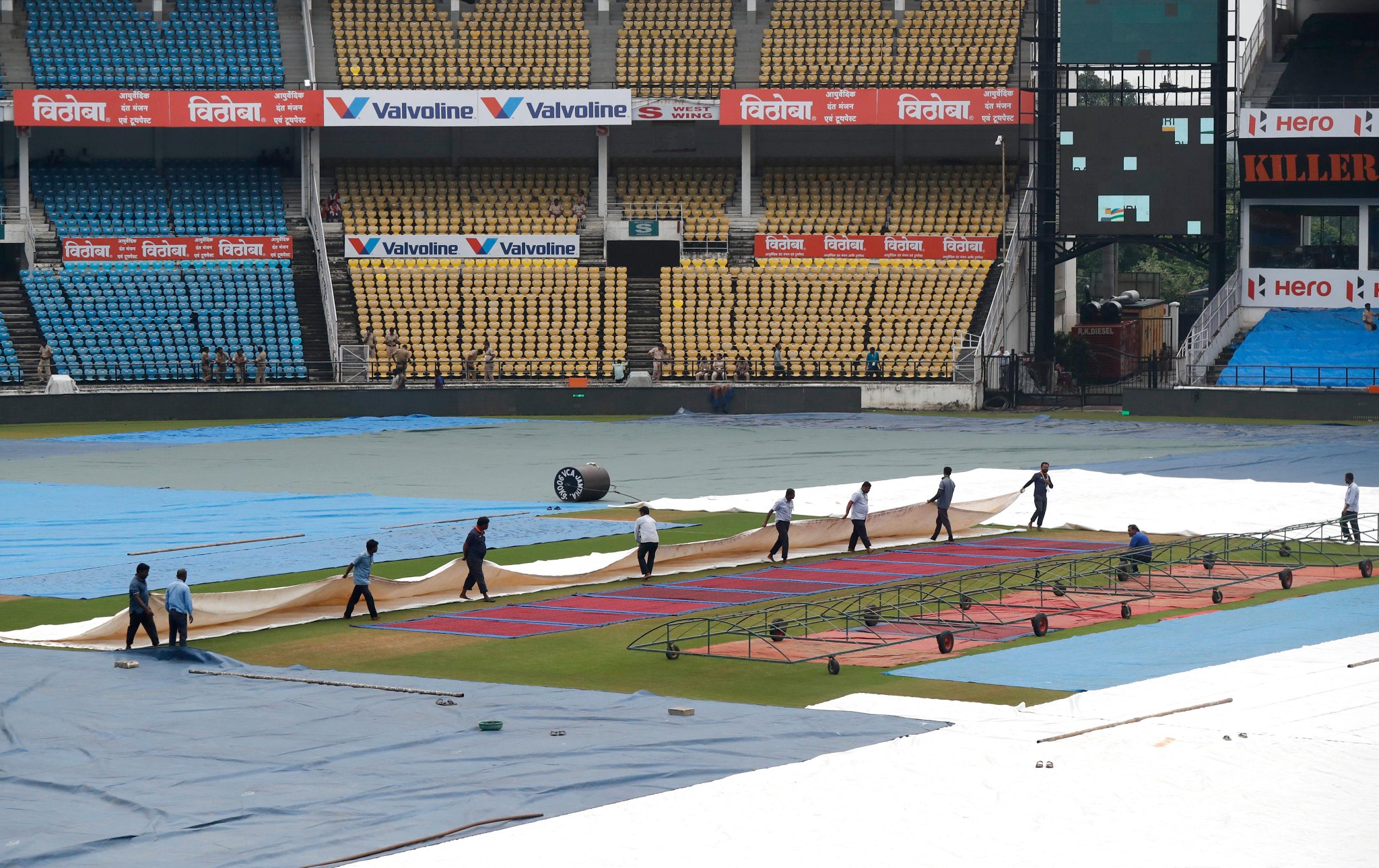 06:24 PM, 23-Sep-2022
IND vs AUS Live: Green will have to be curbed
Australia, on the other hand, are looking solid in every department while their team lacks players like David Warner, Mitchell Starc, Marcus Stoinis and Mitchell Marsh. Cameron Green, who was sent in to open the innings in Warner's absence, played his part brilliantly while the experienced Steven Smith and Tim David, playing the first match for Australia, provided strength to the side. Matthew Wade lived up to his role of the finisher. He played a key role in Australia's victory by scoring 45 not out off 21 balls. Australia, however, will have to be more disciplined in their bowling as pacers Pat Cummins, Josh Hazlewood and Greene had conceded a lot of runs in Mohali.
PAK vs ENG: Babar-Rizwan created many world records by sharing 203 runs, left behind Rohit-Dhawan and Rahul too
06:24 PM, 23-Sep-2022
IND vs AUS Live: Poor performance in fielding too
India's fielding in the last match was also not good and he dropped three easy catches. Former head coach Ravi Shastri also criticized the team for this. Aggressive approach in batting is getting the advantage. Batting in the same manner in the previous match, KL Rahul, Hardik Pandya and Suryakumar Yadav took the score beyond 200 runs after collecting runs while top-order batsmen Rohit Sharma and Virat Kohli were dismissed early. Dinesh Karthik, who is playing the role of finisher in the team, did not get much chance in the last match and may be given more chances here so that the options remain open for the World Cup.
IPL 2023: Auction for the next season may be held in December, Chennai rejects Delhi's offer for Jadeja
06:23 PM, 23-Sep-2022
IND vs AUS Live: Even spinner Chahal is not in rhythm
While the three top-order batsmen's attitude before the Asia Cup had been a problem for India, now bowling has become a matter of concern for them as the weakness of the Indian bowlers in favorable batting conditions has come to the fore. Under any circumstances, Yuzvendra Chahal, India's main spinner, is not showing the firepower as before. He has proved to be very expensive in the last few matches. They have to find a way to perform even on those wickets which are not helpful to the spinners. All-rounder Axar Patel, who was picked in the team due to injury to Ravindra Jadeja, however, proved his mettle by taking three wickets in the last match.
Babar Azam Record: Babar followed the path of Virat, equaled Rohit's record, became only the third player to do so
06:23 PM, 23-Sep-2022
IND vs AUS Live: Hardik scored 150 runs in 14 overs
The Indian team is worried about their fast bowling attack which also includes all-rounder Hardik Pandya. He has conceded 150 runs in the last 14 overs he has bowled. Veteran fast bowler Bhuvneshwar Kumar is unable to walk in the death overs. He bowled in the 19th over against Pakistan, Sri Lanka and Australia, but he conceded 49 runs in these three overs. In such circumstances, it became very important for India to be fit for Bumrah. India is yet to play five matches before the T20 World Cup to be held in Australia and in these matches, it will have to overcome all its weaknesses. India will play its first match in the World Cup against Pakistan on 23 October.
BCCI AGM 2022: AGM of BCCI will be held in Mumbai on October 18, elections will also be held for five posts including President
06:22 PM, 23-Sep-2022
IND vs AUS Live: The role of bowlers is important in Nagpur
The wicket at Vidarbha Cricket Association Stadium, however, will be different from Mohali. The wicket is likely to be slow and in that case the role of the bowlers becomes more important. Given the dew effect in the evening, any team would be better off chasing.
06:21 PM, 23-Sep-2022
IND vs AUS Live: If you lose, you will lose the series for the second time
The Indian team is in danger of losing the second consecutive home series to Australia. Australia won the two-match series in Visakhapatnam and Bangalore 2-0 in 2019.
06:20 PM, 23-Sep-2022
IND vs AUS Live: Bumrah can make a comeback
The news of relief for India is that the return of star fast bowler Jasprit Bumrah is believed to be fixed in this match. Suryakumar Yadav had said in the press conference a day before the match that he is fully fit and ready to play. Bumrah was selected in the squad for the series against Australia but the team management did not place him in the playing XI in the first match in Mohali. This raised doubts whether he is fully fit now or not.
06:14 PM, 23-Sep-2022
IND vs AUS T20 Live: Toss delayed due to wet ground, cut off time is at 9.46 pm, otherwise match will be canceled
Hi! Welcome to Amar Ujala's Live Blog. The second match of the three-match T20 series between India and Australia is being played in Nagpur today. This match is do or die for Team India. If the Indian team loses, the series will be lost. Australia defeated India by four wickets in the first T20. The Indian team can make some changes in its playing-11 today.