While the whole country is in mourning and shock due to the death of Raju Srivastava, comedian Rohan Joshi had made such a stupid comment about Raju, due to which he came under the target of the people. Instead of paying tribute or condoling Raju Shrivastava, Rohan Joshi said that now he has 'lost his life'. On seeing this comment of Rohan Joshi, people got angry on him and got very angry. Rohan Joshi later deleted that comment and then presented his explanation. What is the whole matter, let us explain in detail.
Actually YouTuber Atul Khatri wrote a post on social media paying tribute to Raju Srivastava. On this post, Rohan Joshi made a very stupid comment on the death of Raju Srivastava. Rohan Joshi wrote, 'We have not lost a thing. Be it karma, be it roast or any comic that is in the news. Raju Srivastava leaves no stone unturned to make fun of the new comics, to degrade them. Especially since the new wave of standup came. Whenever he was called, he would go to every news channel and make fun of the new art (standup). Since he himself did not understand this comedy, he used to call it objectionable. Even though he might have told some jokes, he neither understood the spirit of comedy nor the point that even if you do not agree, but one should understand about the right to say something and the right to defend it. F**k him. Lost life.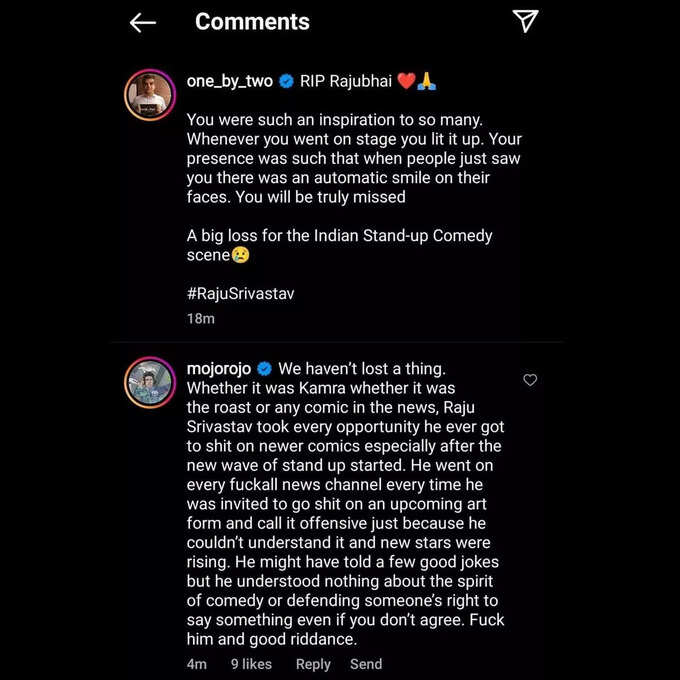 Furious people thrashed Rohan Joshi
People got angry on this comment of Rohan Joshi and criticized him a lot. This post of Rohan Joshi brought his poor mentality in front of everyone. People scolded Rohan Joshi a lot for his such inflammatory post. One user wrote, 'Rohan Joshi, when you are filled with so much bitterness and hatred, then how do you make people laugh?' Another user commented, 'Only a junk comedian can write such a ridiculous thing for Raju Srivastav.'

Rohan Joshi apologizes for his post
Seeing the controversy escalating, Rohan Joshi deleted his comment and posted a clarification. In this, Rohan Joshi wrote, 'Deleted the comment thinking this because after a minute of anger I realized that this is not the time for my personal feelings. Forgive me if it hurts. Thank you for this view.'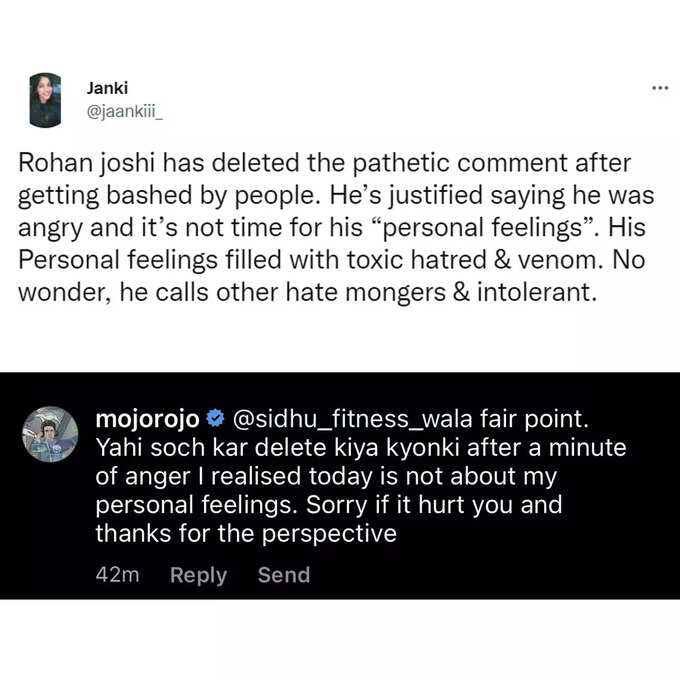 Raju Shrivastava Death: These acts of Raju Shrivastava will continue to make people laugh even after leaving

Rohan Joshi was reprimanded by Sikander Kher, said – no humanity
Anupam Kher's son and actor Sikander Kher also got angry on this ridiculous post of Rohan Joshi and lashed out a lot. Sikander Kher wrote, 'There are always people who are not ideal the way we think they should be. But this is life. We must know how to deal with such things for our health and happiness. This is my opinion. But after reading this about someone who passed away too soon, I was saddened to see that a young man who could be funny and have good humour, probably lacks humanity. It is very disappointing and very unfriendly.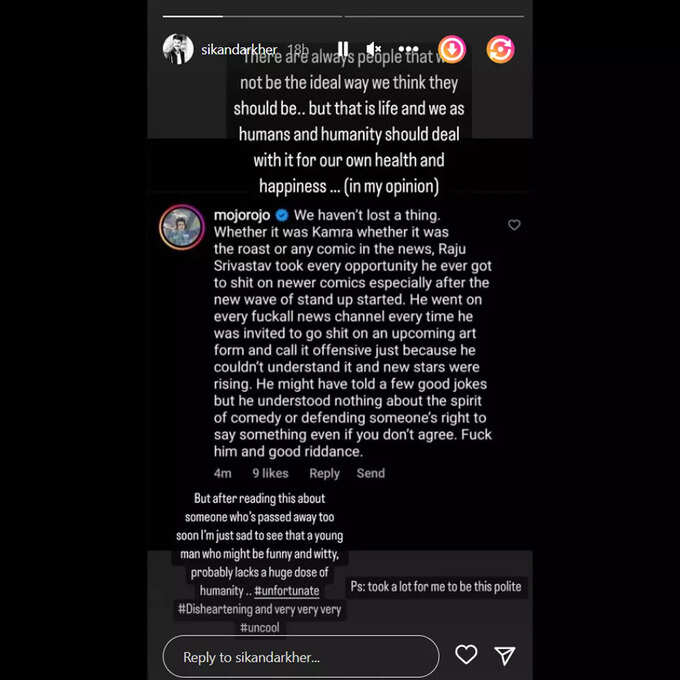 Raju Srivastav Death: Last farewell to Raju Srivastava, what did the people of Bollywood say

Who is Rohan Joshi?
Apart from being a comedian and writer, Rohan Joshi describes himself as an actor and YouTuber. He is associated with YouTube channel AIB. Alia Bhatt also worked in one of its videos. According to reports, Rohan Joshi is dating Alia's sister Shaheen Bhatt. It is discussed that Shaheen Bhatt and Rohan Joshi are dating each other for 7-8 years. A picture of them together is also going viral on social media. Shaheen Bhatt has also shared her pictures with Rohan Joshi many times.
Raju Srivastav Death: Last salute to Raju Srivastava at the Ghats of Kashi, these pictures will make emotional
Raju Srivastava dies after 42 days in AIIMS
On the other hand, Raju Srivastava died on September 21 at 10.20 am. 58-year-old Raju Srivastava was on ventilator at Delhi's AIIMS since August 10. On August 10, he was admitted to the ICU after his health deteriorated.

,