08:10 AM, 24-Dec-2022
Rahul Gandhi is running very fast, the Congressmen running with him have to run with a light race.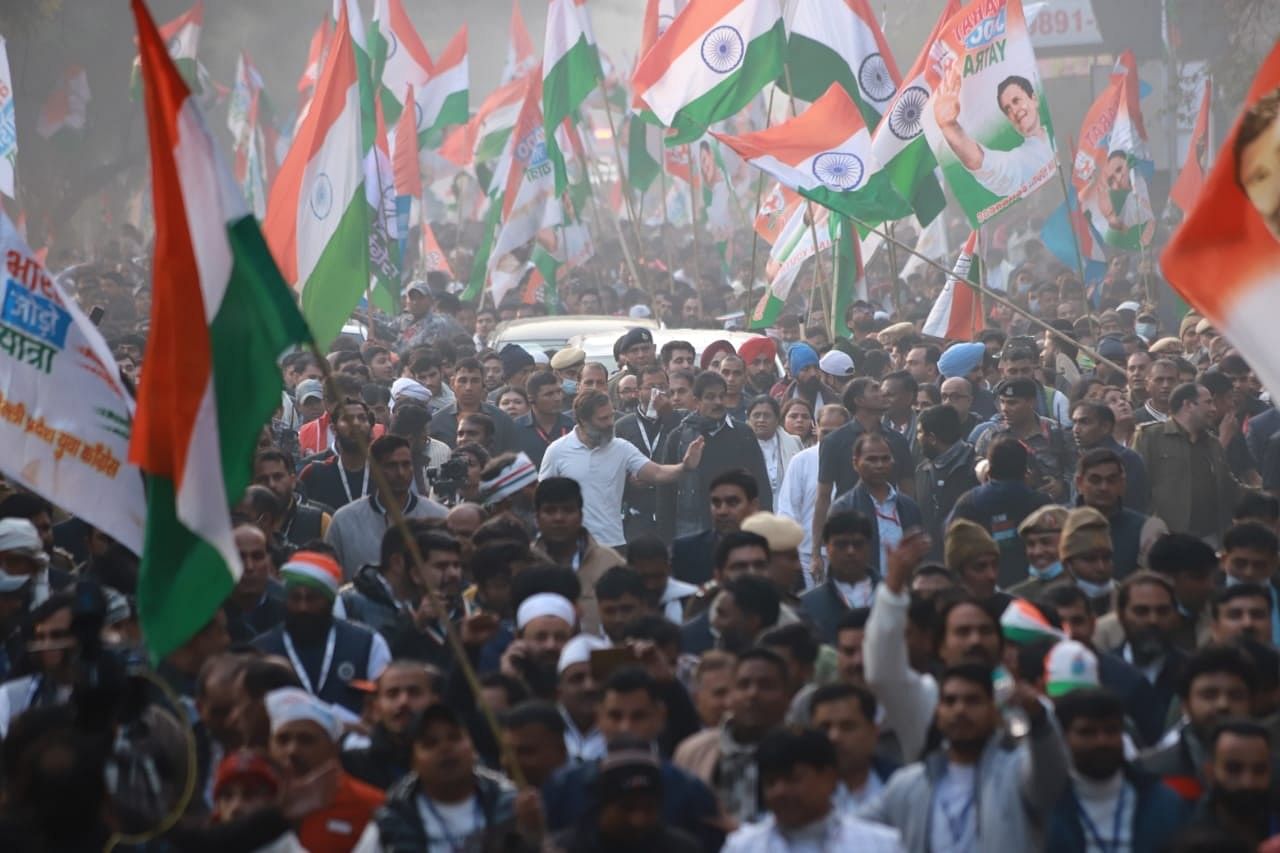 07:59 AM, 24-Dec-2022
Huge crowd in Bharat Jodo Yatra
Congress workers enthusiastically participating in the march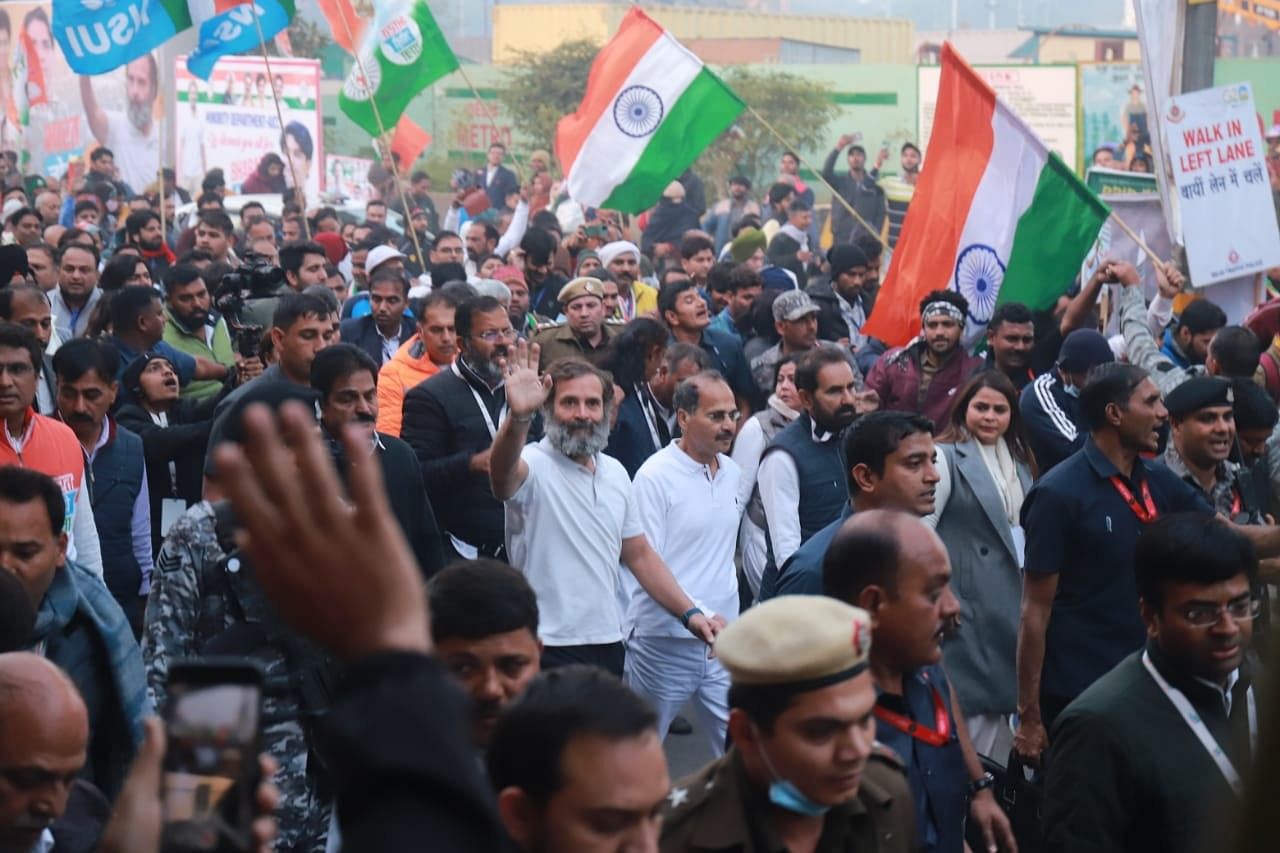 07:53 AM, 24-Dec-2022
women on tour
Women also participated in Rahul Gandhi's yatra by wearing '52 gaj ka daman'
07:37 AM, 24-Dec-2022
Crowd gathered everywhere to get a glimpse of Rahul
During the yatra, many people standing at various places are waiting to catch a glimpse of Rahul Gandhi. While passing in front of Rahul Gandhi, people are greeting him by shaking hands.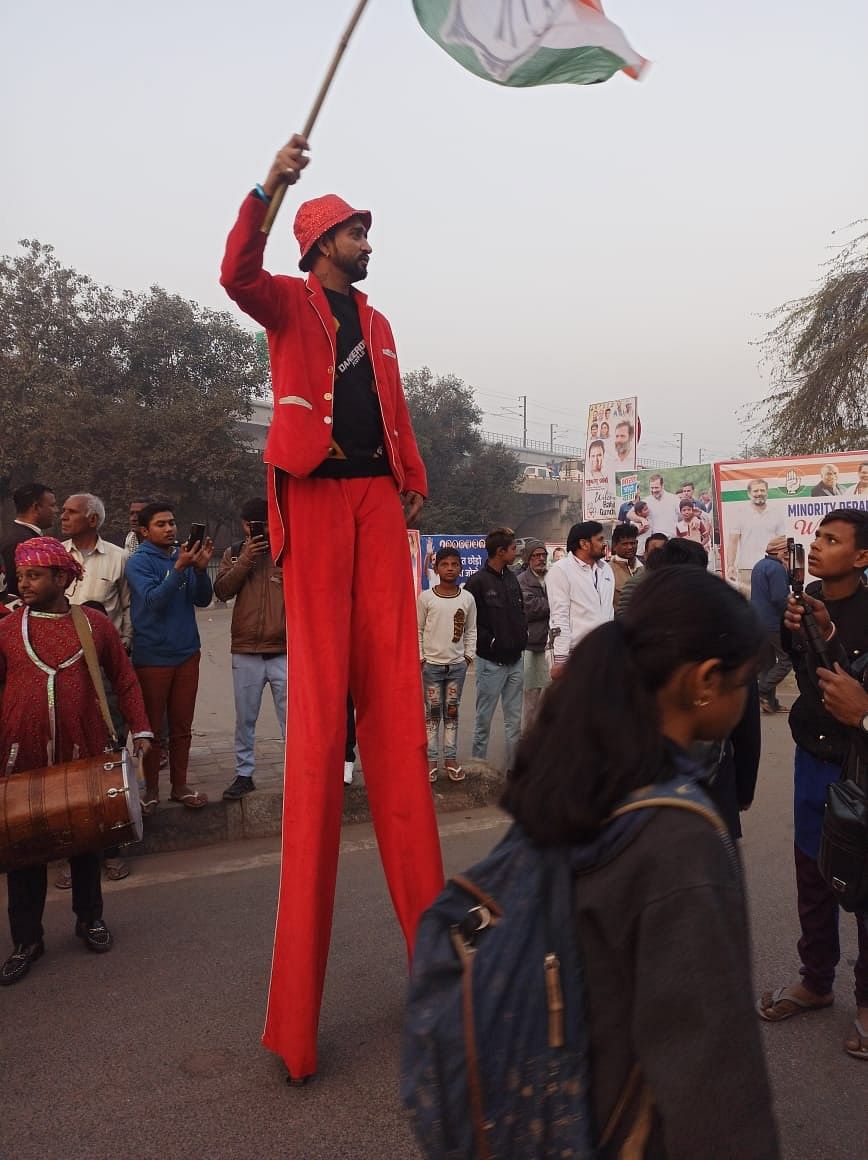 07:35 AM, 24-Dec-2022
True India of love, love and brotherhood: Rahul
There is no hatred anywhere in this journey. If someone falls in this yatra, everyone lifts him up. Everyone helps, this is the true India. The India which is scared of hate by the RSS and the BJP is not the true India. This is the true India of love, love and brotherhood.
07:19 AM, 24-Dec-2022
We have come to open a shop of love in BJP's market of hatred: Rahul
While addressing the public meeting, Rahul Gandhi said that Bharat Jodo Yatra has reached Delhi from Kanyakumari. We will hoist the tricolor in Srinagar. Lakhs of people walked in this journey and they gave their full support. I had said in my speech a few days ago that I had told the people of RSS and BJP that we have come to open a shop of love in your market of hatred.
07:15 AM, 24-Dec-2022
The people of the whole country are looking towards Rahul Gandhi: Uday Bhan Singh
Addressing the public meeting, Bhupendra Singh Hooda said that this visit of Rahul Gandhi is historic, he has come with a goal, in which he will be successful. After this Haryana Congress Committee President Uday Bhan Singh addressed the public meeting. He said that not only the people of Haryana state but the whole country is looking towards Rahul Gandhi.
07:14 AM, 24-Dec-2022
Rahul arrived wearing a T-shirt in the cold
Amidst the bitter cold in Delhi, Rahul Gandhi took the yatra wearing a T-shirt. The President of the Haryana Pradesh Congress Committee handed over the flag of the Yatra to the President of the Delhi Pradesh Congress Committee. Leaders of Haryana Congress Bhupendra Singh Hooda Kumari Selja etc. were also present on the stage.
07:13 AM, 24-Dec-2022
Rahul Gandhi reached the stage
Rahul Gandhi reached the dais during the yatra. There was competition among the Congressmen to congratulate Rahul Gandhi on the stage. Congress workers welcomed Rahul Gandhi with dhol-nagada and band baja.
07:04 AM, 24-Dec-2022
Bharat Jodo Yatra Live: Rahul said – We have come to open a shop of love in the market of BJP's hatred, the journey reached Badarpur
Bharat Jodo Yatra will go only through India Gate

Among Congress officials, Jairam Ramesh, Venugopal and Digvijay had categorically denied that the yatra would not go to Red Fort without passing through India Gate. This was followed by a meeting with Delhi Police officers and the meeting was slightly modified in the form of the visit. It was cleared by Delhi Police officials. Heavy traffic is expected from Badarpur border to Red Fort in Delhi on Saturday in view of Congress' Bharat Jodo Yatra, Delhi Traffic Police said.