IslamabadNo one knows when the SAARC summit will be held which has been stuck since 2014. The South Asian Association for Regional Cooperation ie SAARC, made up of countries like India, Pakistan, Nepal, Bhutan, Bangladesh, Maldives and Sri Lanka, is now fighting for its existence. In the year 2016, it was to be held in Pakistan, but in the same year there was a terrorist attack on the Indian Air Force base in Pathankot and then on the army camp in Uri. Due to these attacks, India refused to participate in this conference. today Atal Bihari Vajpayee It is impossible that there is no mention of SAARC, Pakistan and terrorism flourishing there on the occasion of his birth. The situation was the same in the year 2002 i.e. exactly 20 years back. The handshake at SAARC between Pervez Musharraf and Vajpayee, the General of Pakistan who had become the President of the country at that time, gave a new hope to the world. Everyone had started feeling that the frozen ice on the relationship might melt now. But everyone was forgetting that it was Pakistan which remains the same even after two decades. Musharraf himself described that handshake as a very difficult moment for him. Know the same interesting story of history today.

Something like this happened in the SAARC conference
Relations between India and Pakistan have been strained since the partition in 1947. The 11th SAARC Summit was held in Kathmandu, the capital of Nepal, from 4 to 6 January 2002. This conference was being organized after the attack on the Parliament of India, the Kargil war and the historic Agra conference. Musharraf had come to participate in this conference. Musharraf said in his speech that his country wanted to resolve all issues with India peacefully. He wants good relations with India. After this, he announced that through this conference, he extends the hand of friendship to the Prime Minister of India, Vajpayee.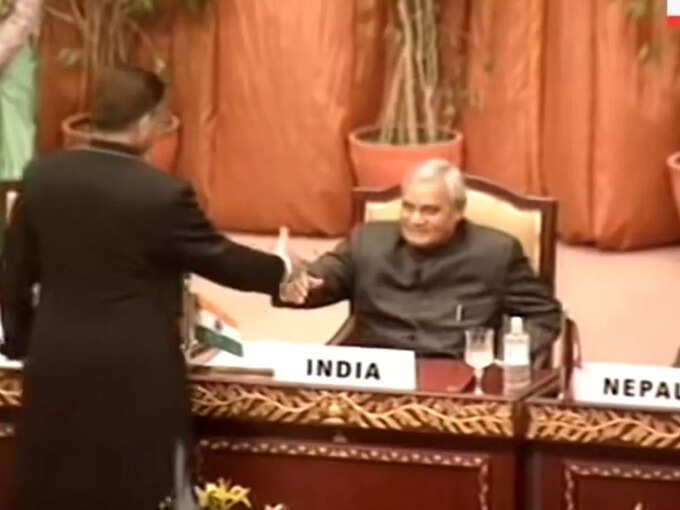 Vajpayee also mixed
Musharraf was coming down from the podium after giving his speech during the SAARC conference. Musharraf surprised everyone by shaking hands with Vajpayee. But what Vajpayee did after this, Musharraf himself did not expect. Musharraf was the same General of the Pakistan Army who wrote the story of Kargil and then had a face-off. Musharraf came close to Vajpayee before going to his seat after giving his speech and he extended his hand. Vajpayee could not ignore this. He also got up from his seat and warmly shook hands and replied to the general.


Pakistan Army: This dreaded General of Pakistan was the 'Godfather of Taliban,' was the mastermind of terrorism in Kashmir

Musharraf's plan failed
Musharraf wanted to tell the world with this handshake that Pakistan still wants friendship and peace with India. Regarding the incident, the media of India and Pakistan wrote on this handshake that at a time when the danger of terrorism remains intact, the warmth seen between Musharraf and Vajpayee is really commendable. Musharraf definitely wanted to present a different image of himself by joining hands. But Vajpayee's speech ruined his plan.


Muhammad Ali Jinnah: Jinnah, hero or villain, what does Indian billionaire grandson Nusli Wadia think about the founder of Pakistan
If Vajpayee did a handshake, then after a few seconds he also gave a befitting reply to Musharraf. Vajpayee had said in this conference, 'I am happy that President Musharraf has extended the hand of friendship towards me. I shook hands with him in the presence of all of you. Now Musharraf will have to take this sentiment forward. Vajpayee said Musharraf would have to promise that he would not allow terrorist activities against India to flourish in Pakistan or its borders.
Vajpayee reminded everything
Vajpayee also did not forget to remind that India has always been in favor of friendship with Pakistan. He also went to Lahore for the same purpose but every time Pakistan has betrayed India. Vajpayee said in a strong tone that after Lahore, India got the gift of Kargil war. Indian Airlines plane was hijacked from Kathmandu. After this he does not forget what Vajpayee said till today. His words were, 'I called Musharraf to Agra and he gifted us with a terrorist attack in Jammu and Kashmir as well as an attack on Parliament.' A month after this incident i.e. in February 2002, when Musharraf gave an interview to a Japanese media, he admitted that joining hands with Vajpayee was the most difficult decision of his life.

,